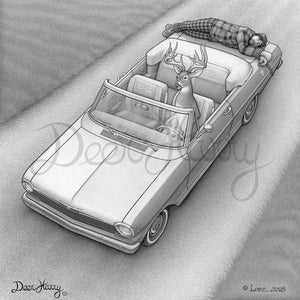 Deer Harry
Deer Harry "Strapped On" B&W Print available as 12", 14" 16", 18", 20", 22" & 24" square prints
Regular price
$16.00
$0.00
Deer Harry "Strapped On" - first in the Deer Harry series of scenes from a world in which the deer do to Harry the Hunter what he has done to them in this one. B&W print available in your choice of 12"x12", 14"x14", 16"x16", 18"x18", 20"x20", 22" x 22", & 24"x24" sizes. Printed on quality poster weight paper. 
Matte finish. Suitable for framing. 
1/2" white border. Looks great in the home, at work, the den, the workshop, 
at camp, and almost everywhere else. 
Actual image is 1" less than poster size to accommodate 1/2" border. 
***Display example is watermarked with "Deer Harry" logo, which is omitted on the actual print***                 
---
Share this Product